Home
/
Caroline C. Kresky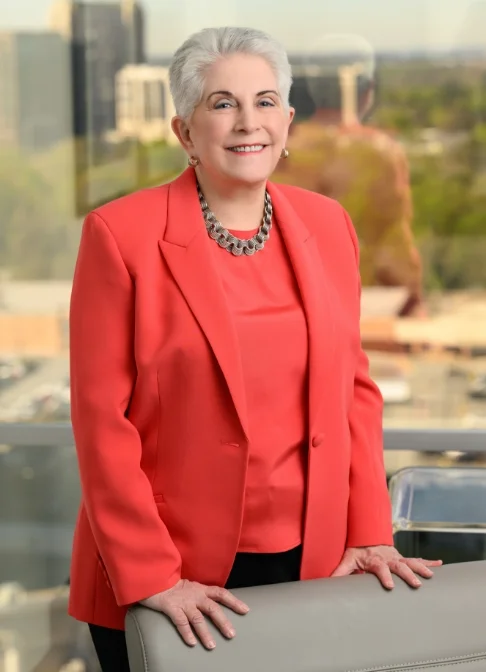 Caroline C. Kresky
office +1 404 869 5291
mobile +1 404 394 9015
ckresky@kreskylaw.com
vCard
Caroline C. Kresky is the founding member of KRESKY LAW that specializes in family law matters for high net worth individuals. Ms. Kresky is one of the premier lawyers in the Southeast and has a statewide practice. Prior to forming KRESKY LAW, Ms. Kresky practiced with national law firms for about 30 years and achieved equity partner status at three national law firms. She currently represents high net worth individuals in contested and complex family law matters (divorce, alimony, property division, child support, custody; modification actions; contested paternity, legitimation and grandparent rights; domestic violence; contempts; and disputed pre and postnuptial agreements) as well as trust and guardianship matters.
Ms. Kresky has assembled a first rate team whom she supervises with the goal of providing quality work at a reasonable cost and achieving positive results for clients. Because representing high net worth individuals in complex financial and legal matters requires a sophisticated financial understanding and in depth knowledge of the law, Ms. Kresky has built relationships with outstanding professionals, who are experts in forensic accounting, valuations/appraisals, fraud examinations, and complicated compensation packages; trust and guardianship issues; custody evaluations; and health (physical and mental) issues.
Ms. Kresky has repeatedly been designated as a SuperLawyer, a Georgia Trend Legal Elite, AVVO 10/10, and a Top Rated Lawyer in several publications, including the Wall Street Journal. Ms. Kresky was featured on the cover of ALM in a 2019 article Women in the Law and in 2023, she was seen in Forbes and Fortune Magazines.
She is AV rated by Martindale Hubbell ("MH") for more than 20 years, and in starting in 2013 and every year thereafter, MH designated her as AV Preeminent, the highest level of peer rating and signifies the highest level of professional excellence for legal knowledge, communication skills, and ethical standards. Since 2021, MH also awarded her the Client Champion Gold. She is among MH's Most Honored Lawyers and Top Rated Family Lawyers. Ms. Kresky has numerous on line peer reviews gathered by MH. A family law judge reviewed Ms. Kresky as "Outstanding professional; ethical and brilliant." A partner in another family law firm reviewed Ms. Kresky and stated: "Caroline Kresky is one of the finest persons and lawyers I have ever known."
Experience
Successfully resolved $185+ million divorce dividing complex assets.
Convinced a Superior Court to rebuild a marital estate by the amount husband dissipated on his girlfriend.
Litigated complex divorce case with incapacitated other party that required the appointment of a guardian and conservator.
Tracked down millions of missing assets in complex divorce case that involved multi-state issues.
Deep understanding of complex compensation plans and the division of complicated assets, such as, options, restricted stock, and other incentive plans.
Handled contested legitimation, paternity, and grandparent rights cases.
Litigated numerous modification actions – support, custody, and child support.
Handled many contempt actions.
Obtained guardianships/conservatorships of children and adults.
Enforced and challenged high dollar pre nuptials and post nuptials.
Tried family violence cases where there was a great deal more at stake than money.
Resolved, without a trial, the removal of a trustee in a $100 million trust dispute.
Lead counsel in numerous trials and arbitrations.
Ms. Kresky served as President of the Lamar Inn of Court, and in other legal organizations. Ms. Kresky has taught, lectured, and written articles on family law issues. She recently served as an expert witness in a Florida wrongful death case.
Ms. Kresky graduated in the top ten (10) of her class with distinction from Emory University School of Law where she was elected to Order of the Coif and received awards for the highest grades in torts and civil procedure.
Ms. Kresky graduated from Colby College in the top 10% and was elected to Phi Beta Kappa. She also earned a Masters in Political Science from Columbia University.
Before entering law school, Ms. Kresky worked as a journalist and ran a profit center for a NYSE textile company.